VSCO Girls Readathon/January TBR!
Happy 2020!  I hope you all had a wonderful holiday.  I'm really looking forward to this year and am hopeful that I will read soo many books this year.  To kick things off, I've decided to participate in the VSCO Girls Readathon!  This is a super fun readathon hosted by several different people.  You can get all the details on the official Twitter, here!
In case you don't know what a VSCO girl is, basically, it's a style trend going around.  VSCO girls love wearing scrunchies and oversized t-shirts.  They're also big on saving the environment and always carry reusable straws and a hydroflask.  They also say, "and I oop." I can't explain that one but just trust me. I don't know how this all became a thing, but it's a thing, and honestly, I love it. 😂
Anyway, this is a bingo-style readathon, and each prompt plays off of one the VSCO girl trends.  So, without further ado, let's get started: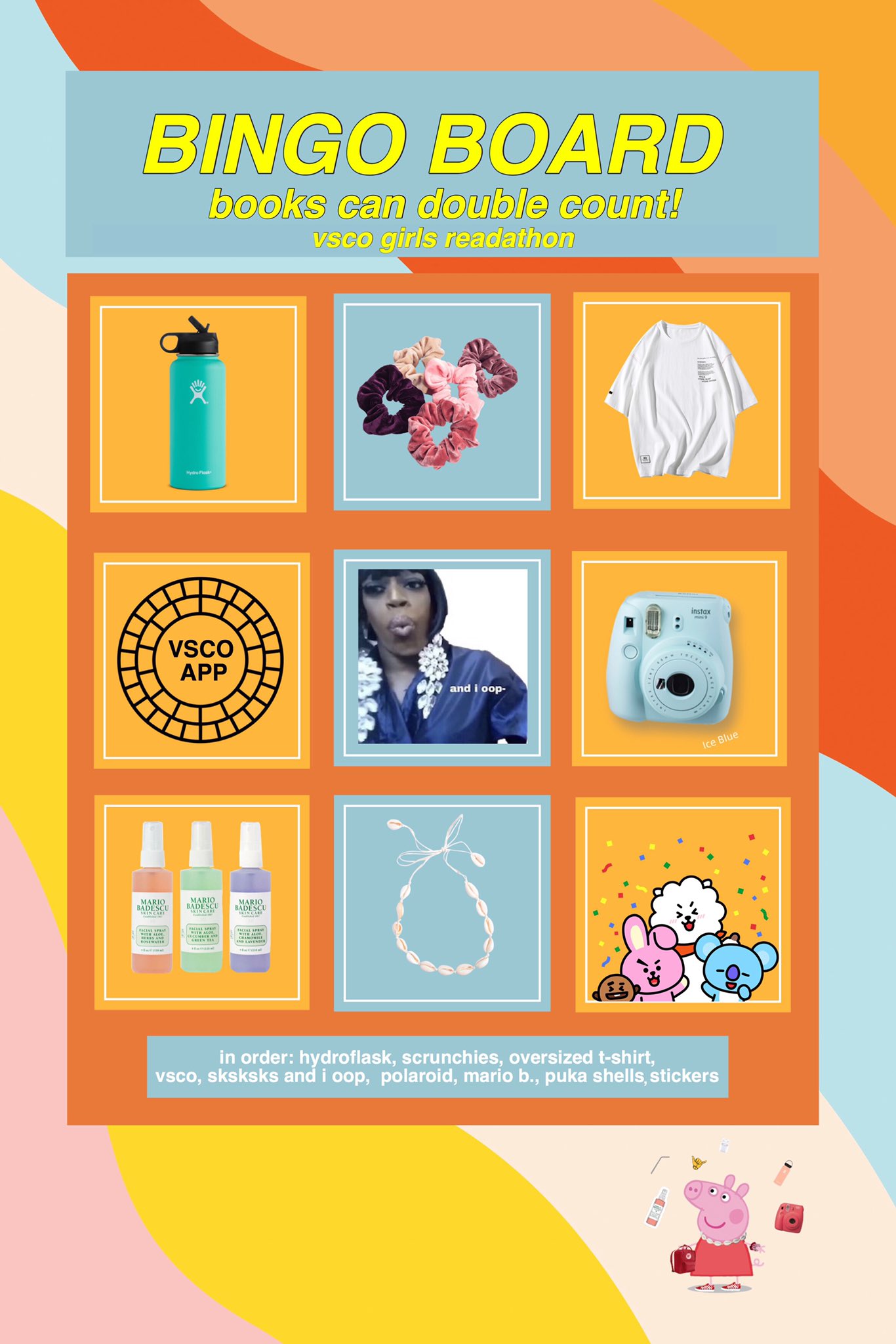 Hydroflask:

A Hard Hitting Contemporary or a Book 400+ pages
For this prompt, I'm going with the group book, which is Frankly in Love by David Yoon.  I haven't heard much about this one yet, but it's written by Nicola Yoon's husband, and it sounds like it's going to be so good.  So, I'm excited!
Scrunchies:

A book with a gorgeous cover
I absolutely love the cover of Hiddensee by Gregory Maguire.  I love how intricate the design is!
Oversized T-Shirt:

A book outside of your comfort zone
For this one, I've decided to go with The End of the Magi by Patrick W. Carr.  It's in the biblical fiction category, and that is a genre that I have very rarely read.  I'm really intrigued by this book though, and I've heard good things, so I'm eager to see what I think of this one.
VSCO:

A book loved by one of your faves
One of my sister's favorite series is the Warrior Cat books.  I've read a couple, but not very many.  So, for this challenge, I'm reading the next one in the series, Forest of Secrets!
Sksksk and I Oop:

A Random book
I'm choosing The Immortalists by Chloe Benjamin.  I received this book for Christmas and it sounds so good, so I'm super eager to start reading this one very soon!
Polaroid:

A non-fiction or Nostalgic book
For this challenge, I am reading Girl Sleuth: Nancy Drew and the Women Who Created Her by Melanie Rehak.  This book is absolutely perfect for this challenge because not only is it non-fiction, but it's about one of my most nostalgic favorites, Nancy Drew!  I've been meaning to read this one for literal years now, so I'm very hopeful to actually, finally reading it.
Mario Badescu:

A book that's overhyped
I don't actually think this book is overhyped, but I've heard a lot of hype about The Bear and the Nightingale by Katherine Arden, so I'm using it for this prompt.  I am so excited for this book!  I'm really hoping that it will live up to all the hype I've heard about it.
Puka Shell Necklace:

Buddy read with a friend
I'm dreadful at buddy reads, so I'm going to kind of work my way around this one.  Instead of a full on, traditional buddy read, I am counting either the group book, Frankly in Love, or The End of the Magi, which is the winter pick for the Biblical Fiction Buffs Goodreads book club.
Stickers Galore:

A manga or graphic novel
For Christmas, from my #TBTBSanta, I received an Anne of Green Gables graphic novel! Most of you all know by now how much I love and adore Anne, so as you can imagine, I am so eager to read this one.  Now it's the perfect time to read it, too!
---
Aside from all those books, as if that wasn't already enough for me, I'm also hopeful to squeeze in a few more books!
I really would also love to read Dead Voices by Katherine Arden, Little House in the Big Woods by Laura Ingalls Wilder, and Atomic Habits by James Clear!
---
*Whew* Here's hoping January is a good reading month for me, because I cannot wait to just read all the books!
Let me know what your January TBR looks like and if you're participating in the VSCO Girls Readathon or any other readathon.
Thanks for reading!
---
---