InLoveAThon TBR!
Hi everyone! I don't know about you, but I love Valentine's Day.  I just love all the pinks and reds and just the overall love all around. 💕😍 So, of course, I was so excited to see that the InLoveAThonwas back this year.  It's one of my favorite readathons!
This year, the dates run from today, February 9th, through the 15th.  And today, I'm sharing my TBR with you all.  So, here we go!
This year, the InLoveAThon is following a choose-your-own adventure type of map, which I love.  I love when readathons give you challenge options!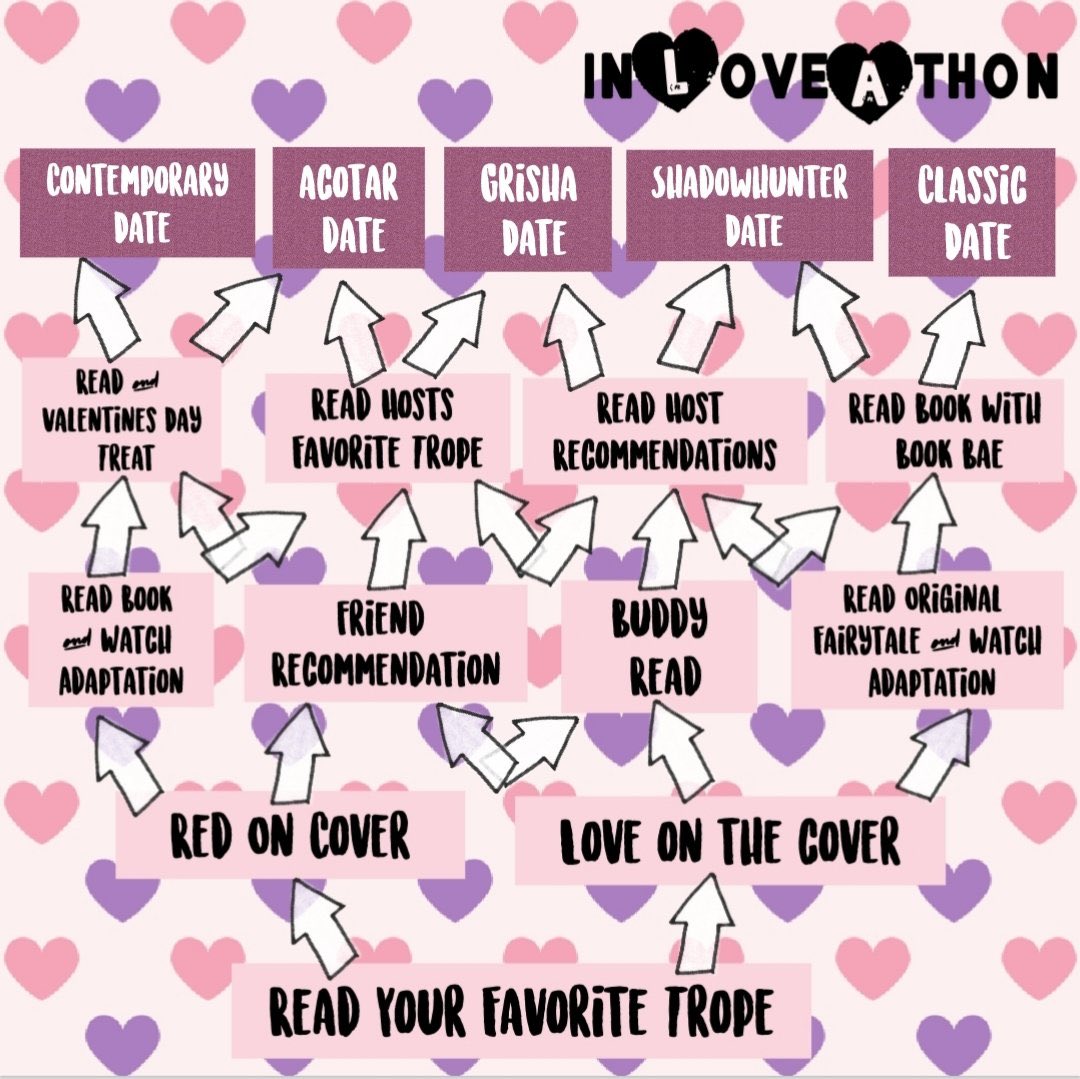 I'm working my way to the Classic Date, with none other than Gilbert Blythe, himself, lol. 💁🏼‍♀️
So, first off,
Read Your Favorite Trope
For this one, I'm reading The Lucky One by Nicholas Sparks.  I'm such a sucker for books where one person finds something that belongs to their future love interest.  I don't know why, I just do.  Plus, Nicholas Sparks books around Valentine's Day are just perfect.
Love on the Cover
For this prompt, I'm reading P. S. I Still Love You by Jenny Han, which is perfect because the movie is coming out on Netflix February 12th. 🎉 I loved the first book and movie, and so, of course, I'm super excited for the sequel!
Read Original

Fairy Tale

& Watch Adaptation
I'm undecided on this one, but I'm either going to read/watch Cinderella or Beauty and the Beast and then watch their live-action adaptation on Disney+!  It's kind of my Valentine's Day plans. 💁🏼‍♀️😂
Read Book with Book Bae
I chose the Anne of Green Gables graphic novel for this challenge!  It's my favorite book and Gilbert Blythe is one of my favorite fictional love interests, so I'm really excited to read this one.  I'm pretty new to graphic novels, but I think this one is going to be so good!
---
I feel like this TBR is quite attainable for me.  I'm really hopeful and excited that I'll get to all of these books this week!  I hope you enjoyed finding out my plans for the InLoveAThon.  Let me know if you're planning on participating.
Thanks for reading!
---
---