Book Review: Wink Poppy Midnight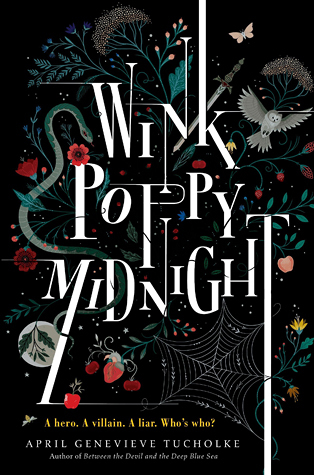 Summary
Every story needs a hero.
Every story needs a villain.
Every story needs a secret.

Wink is the odd, mysterious neighbor girl, wild red hair and freckles. Poppy is the blond bully and the beautiful, manipulative high school queen bee. Midnight is the sweet, uncertain boy caught between them. Wink. Poppy. Midnight. Two girls. One boy. Three voices that burst onto the page in short, sharp, bewitching chapters, and spiral swiftly and inexorably toward something terrible or tricky or tremendous.

What really happened?
Someone knows.
Someone is lying.
What I Thought
First, can we talk about that cover for a moment? It is so beautiful and unique! 😍
Anyway, this is the first book that I've heard about and read by April Tucholke. So, I really didn't know what kind of story to expect, other than the fact that it was a mystery of sorts. I was pleasantly surprised by this book.
Wink Poppy Midnight is told from three different perspectives by the main characters of the story, Wink, Poppy, and Midnight. Each chapter is fairly short, which I loved, because short chapters give me an excuse to read "just one quick chapter more!" The writing in general, is very beautiful; it's descriptive, without being overly so, and it is just written in a very imaginative, poetic way. Some of the sentences are just so beautifully written.
I really enjoyed the characters as well. I felt the characters were very fleshed out, even most of the supporting characters, and I felt like they all had a story to tell. There was a bit of mystery in everyone, and I loved that. Throughout the entire book, I was trying to see where certain plot points were going, and which characters were lying, and which character was being honest, and who was hiding something. This book definitely had a mysterious vibe, even before things really started to get going.
I really did not see the ending coming at all, which I really liked also. The only thing I was confused about, or maybe I just missed something, was the very end. I'm not going to spoil anything, but I wasn't sure if a certain something did or did not happen, or if it was left to interpretation. So, I'd really like to talk about the ending with someone who has finished this book, so I can get their perspective!! 🙂
Other than that, this story was a really good, fast-paced read. I would definitely recommend it to anyone looking for a different kind of mystery, or someone who is a fan of We Were Liars by E. Lockhart or The Accident Season by Moira Fowley-Doyle.
**I got this book for free, as part of the First To Read program by Penguin, for the purpose of providing an honest review. Wink Poppy Midnight will be released March 22, 2016!**