Book Review | Passenger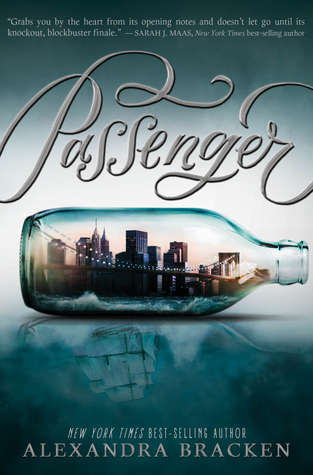 Title: Passenger by Alexandra Bracken
Pages: 486
Genres: YA, Fantasy, Science Fiction/Time Travel, Romance
Published by: Disney-Hyperion
Summary:
Passage, n.
i. A brief section of music composed of a series of notes and flourishes.
ii. A journey by water; a voyage.
iii. The transition from one place to another, across space and time.

In one devastating night, violin prodigy Etta Spencer loses everything she knows and loves. Thrust into an unfamiliar world by a stranger with a dangerous agenda, Etta is certain of only one thing: she has traveled not just miles but years from home. And she's inherited a legacy she knows nothing about from a family whose existence she's never heard of. Until now.

Nicholas Carter is content with his life at sea, free from the Ironwoods—a powerful family in the colonies—and the servitude he's known at their hands. But with the arrival of an unusual passenger on his ship comes the insistent pull of the past that he can't escape and the family that won't let him go so easily. Now the Ironwoods are searching for a stolen object of untold value, one they believe only Etta, Nicholas' passenger, can find. In order to protect her, he must ensure she brings it back to them—whether she wants to or not.

Together, Etta and Nicholas embark on a perilous journey across centuries and continents, piecing together clues left behind by the traveler who will do anything to keep the object out of the Ironwoods' grasp. But as they get closer to the truth of their search, and the deadly game the Ironwoods are playing, treacherous forces threaten to separate Etta not only from Nicholas but from her path home… forever.
What I Thought
Wow! What an adventure!!   I feel like Passenger is one of the most talked about books of 2016 so far!  Honestly, I was a little intimidated to read this one, because everybody seems to just love it, and I was afraid that I wouldn't like it as much.  Because I had heard so many good things about this book, I was a bit skeptical on whether or not it would actually live up to the hype.  For the most part though, it actually did!  While, I admit, it felt a bit slow at parts, this book was so worth the read!
Passenger was so good!  I really loved the time travel aspect, and the way it was explained in this book.  Time travel confuses me very easily, because I tend to overthink things, and usually my brain ends up in a big knot.  With Passenger, however, it is explained in a way that is more straightforward and not so confusing, because I feel like it really covers all its bases when it comes to timelines and changing the past, future, and so on.  Time travel also has an almost magical quality, which I really enjoyed.  So, well done Ms. Bracken – my brain is still okay after reading this book!
There were some really great characters in this book as well.  For the most part, they were all very well-rounded, and I could see the motivation behind each character's actions.  Etta is a very likable and  relatable main character, even if her life is not so average.  Her love for music and the violin was something else that I, personally, really liked about her.  I look forward to learning more about Sophia in the sequel, because I feel like her character has so much more depth and life to her than was shown in this book.  Also, it took me about half the book  to really appreciate, but I absolutely loved Etta and Nicholas' relationship!
The one issue I had with this book was that it felt a bit slow at times, particularly in the beginning.  Passenger took me a while to get into, before I really started to love it.  Once I became invested in the story though, I was really invested.  The ending in particular left me so hungry for more!  I have no idea how I am going to wait until January for the sequel, Wayfarer!
This book was such a good adventure!  It was so fun to read about the different places and times.  The historical information that was in this book was so interesting.  To be honest, I got really excited when they talked about the Elgin Marbles, because I had just recently learned about them and the controversy surrounding them.
Overall, this was such an enjoyable read.  It was a fun adventure that featured time travel in a really interesting, unique way.  I would recommend this book to anyone who loves time travel or adventures.