Book Review | Someone Like You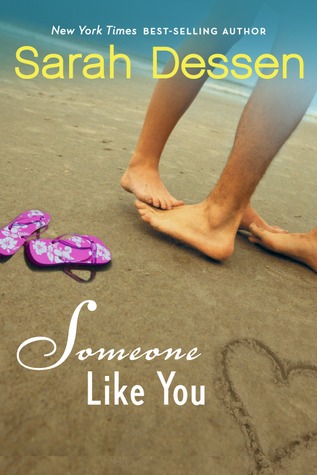 Title: Someone Like You by Sarah Dessen
Pages: 281
Genres: YA, Romance, Contemporary
Published by: Penguin (May 1st, 1998)
Summary
Halley has always followed in the wake of her best friend, Scarlett. But when Scarlett learns that her boyfriend has been killed in a motorcycle accident, and that she's carrying his baby, she was devastated. For the first time ever, Scarlett really needs Halley. Their friendship may bend under the weight, but it'll never break–because a true friendship is a promise you keep forever.
What I Thought
Sarah Dessen, in my opinion, is the queen of YA contemporary.  There is not a single book of hers that I have read and have not loved.  However, there are a few books that are just exceptional.  Someone Like You is one of them.
One of my favorite things about this novel is the friendship between Halley and Scarlett.  The struggles that they go through, alone and together, are very realistic, and the bond they share is so real.  I cannot imagine how hard it must be to go through a teen pregnancy, and I loved how Halley stuck by Scarlett's side through it all.  Also, Halley ended up making some very disappointing choices throughout the course of this novel, and despite that Scarlett was always there for her as well.
All of the emotions in this book are very real.  The grief, joy, anger, and fear that was felt throughout this novel was so raw and emotional.
I found the minor subplot between Scarlett's mom and her new boyfriend to be super fun.  It was a bit random, but I loved how his character would bring just the right amount of lighthearted/silliness to this more serious novel, without taking away attention from the story.
Overall, I thoroughly enjoyed this novel.  It was very emotional and thoughtful.  This book, while there is romance, is deeply rooted in friendship, and I loved that.  Don't get me wrong, romance novels are fun, but I love stories like this, because they show that a romantic relationship is not the end goal.  Someone Like You is now one of my top 5 favorite Sarah Dessen novels.
I would definitely recommend this novel to all Sarah Dessen fans, anyone looking for a good YA contemporary novel, as well as someone looking for a book featuring strong friendships.