My Most Memorable Christmas Memories!
Hello everyone! Merry Christmas!! In honor of today, I've decided to make a little bit of a different post today.  It doesn't really have anything to do with books, but it's Christmas, so I think that's okay. 🙂 Today, I'm going to share with you all some of my most memorable Christmas memories and traditions.
My family has always been super into Christmas!  We decorate in early November, and fill the months of November and December with Christmas music, movies, and activities.
Christmas Festivities
For my family, it's always been a tradition to watch Home Alone on Thanksgiving night, and eat leftovers.  It used to be the very first Christmas movie we would watch for the season.  While we're all too excited to wait for Thanksgiving to watch Christmas movies now, we still always have to watch Home Alone on Thanksgiving night!
Another favorite Christmas activity I do every November, is go to a Christmas tree festival.  There are always so many beautifully decorated trees, and I look forward to going every year!
Christmas Eve Traditions
One of my favorite memories, is of my grandpa reading us The Night Before Christmas on Christmas Eve at my grandparents' house.  My family, and my aunts, uncles, and cousins would all be there, and we'd gather around by his feet as he read to us.  He always had to put on these slippers that were Santa's face, too.  I remember being such a little (and not so little, lol) giggly kid when he read, because that meant Christmas was so close!
Another fun Christmas memory of mine was after we left our grandparent's house.  After my family and I got home, my sisters and I would hang our stockings, and my mom would always record us and then ask us what we want for Christmas.  Books were always on my wishlist! 😉  Then my sisters and I would perform. 🙈😂  The Chipmunk Song was our annual tradition, but various other songs were performed as well. I'm still partial to my performance of Santa Claus Lane by Hillary Duff. 😜
Christmas Morning Rituals
Ever since we were little, my younger sister and I wake up super early and watch Christmas movies and eat snacks in bed before the rest of the house wakes up.  We used to get up at 4 AM, but we're old and tired now (lol) and so we don't usually get up until 5:00-5:15, but we still continue the tradition!
My mom always makes this delicious egg casserole and cinnamon rolls for breakfast!  She only makes it on Christmas.  Because of that, it's always so good, and the leftovers are always gone too fast.
After my immediate family (plus now my older sister's husband and kids) opens our presents, we all go to my grandma's and eat and open presents and visit with the rest of our family.  It's always a great day! 🙂
WORST Christmas Gift
The absolute worst Christmas gift I ever received was the stomach flu.  It also stands out as one of my most memorable Christmas memories – even if it is a negative.  It was 2008.  My little sister, who was 10 at the time, woke up at 2 AM, and literally threw up all night.  It was horrible.  However, during the night, I still felt fine, so I thought while I might get sick later, at least I might make it through Christmas.  In the words of the Grinch: "Wrong-O!"  I woke up ready to open presents, like usual (which looking back seems pretty self-absorbed being that my little sister was sick all night, but hey, it was Christmas.  When you're 10, not even the stomach flu can stop you from opening presents!), and I felt a little queasy, but I admit, I'm a bit of a hypochondriac at times, so I thought it was just in my head, so I forced a smile and pushed on.  I made it through opening my stocking, and was in the process of opening my first present when the flu hit full force.  Needless to say, the Christmas of 2008 will forever be seared in my family's memories as the Throw Up Christmas.  And yes, in case you were wondering, the rest of the family DID get sick in the days after…
BEST Christmas Gift
Honestly, I don't know if I have an absolute best Christmas gift.  I really do love and appreciate all the gifts I've gotten.  One gift stands out though, because I don't think I expected to get everything that went with it.  So, I think the best Christmas present I ever got was my Happy Family Barbie family.  It was a controversial toy, because the Barbie doll was pregnant, but my mom bought it for me anyway, because Y'ALL that's why I wanted it!  😂 I remember they stopped selling her with the baby bump right around Christmas, and I was so worried I wasn't going to get the one with the detachable belly.  But, sure enough, Santa came through! I got the pregnant Barbie doll and her baby, and the dad and the big brother.  And then, the icing on the cake was my grandparents bought be the Barbie grandparents and kitchen set!!  9 year old me was so hyped up, and I couldn't believe I got the whole set!  I just remember going to bed that Christmas thinking about how I truly got everything I had wished for, and I was just so appreciative.
---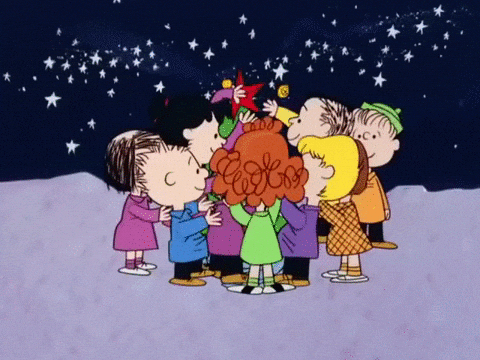 ---
I hope everyone has a very Merry Christmas, and just an overall lovely day!  I'd love to hear some of your favorite Christmas traditions and memories in the comments!Thanks for reading!
---
Follow me on:
Bloglovin' | Instagram | Twitter | Facebook | Goodreads | Litsy (@thecalicobooks) Buy from:
The Book Depository (I receive a tiny commission if you follow my BD links!)