Book Review | Six of Crows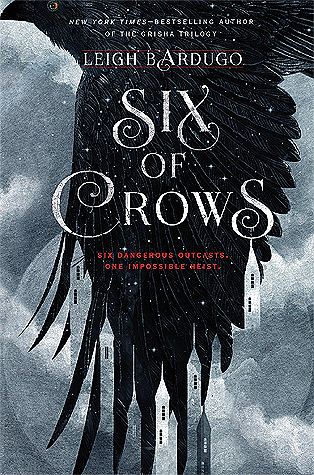 Title: Six of Crows by Leigh Bardugo
Pages: 465
Genres: YA, Fantasy
Published by: Henry Holt and Company
Summary
Ketterdam: a bustling hub of international trade where anything can be had for the right price—and no one knows that better than criminal prodigy Kaz Brekker. Kaz is offered a chance at a deadly heist that could make him rich beyond his wildest dreams. But he can't pull it off alone…

A convict with a thirst for revenge.

A sharpshooter who can't walk away from a wager.

A runaway with a privileged past.

A spy known as the Wraith.

A Heartrender using her magic to survive the slums.

A thief with a gift for unlikely escapes.

Kaz's crew are the only ones who might stand between the world and destruction—if they don't kill each other first.
What I Thought
The hype for Six of Crows is H-U-G-E!  For about the past year, I had heard nothing but absolute rave reviews for this book.  Naturally, I became intrigued.  While I definitely enjoyed this book a lot, it didn't exactly fill me with the same level of love that most people seem to have for this book.
First of all, you should know Six of Crows is actually a spin off series of the Grisha Trilogy.  That being said, you do not necessarily need to read that series first – I haven't read the Grisha Trilogy, and it really didn't affect anything.  If anything, it might have helped with the world-building, but honestly, Leigh Bardugo does an excellent job with that in this book as well.  Actually, the world and the setting that Leigh Bardugo created is one of my favorite things about this book.  She does an excellent job explaining about Grishas without actually just feeding information like sometimes happens in fantasy book.  Everything just felt so fully developed and well-rounded.
One thing that I personally had a hard time with, was the very beginning of the book.  There are a lot of characters in this story, and later on I did find myself enjoying all of them, but in the beginning of the book, I had a hard time keeping everyone and everything straight.  I don't know if I just wasn't in the right mood for this book or what, but the first 100 pages were quite hard for me to get through.  I found myself struggling to connect with, and even remember each character.  For a while there, I almost thought I wasn't going to be able to finish the book.  Luckily, however, I did push myself through, and once I started to get everyone straight, I really did end up enjoying this novel quite a lot.
Like I said, there are a lot of main characters, and there are several POVs in this book as well.  I thoroughly enjoyed each person's point of view, too!  Usually, in books with multiple POVs there's always that one character that you don't care about as much, and their side of the story just isn't as interesting, in Six of Crows that was not the case!  I actually loved reading about each person's backstory and point of view.  It really helped me to connect with the characters.
Speaking of characters, they were all very well-rounded.  I loved that they all individually had unique personalities, hobbies, and quirks.  They were all so realistic and unique.  The relationships in this book were so great as well.  Yes, there is some romance, but unlike some novels, it took the backseat to the main story line.  The romances all took their time to grow; there was no insta-love or unrealistic make-out scenes just added to be sexy and edgy.  Actually, nothing in this novel was added just to be added.  Everything felt so well thought out and constructed.
Overall, even though I had a rough start with this novel, I'm glad I pushed through.  The storyline is very action-packed and engaging, the characters are so unique and well-rounded, and the setting is incredible.  I would definitely recommend this book to fantasy lovers everywhere!