Book Review | Kindred Spirits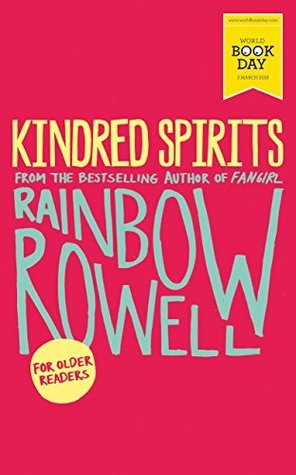 Title: Kindred Spirits by Rainbow Rowell
Pages: 62
Genres: YA, Contemporary, Short Stories, Novella
Published by: Macmillans Kids UK (February 25, 2016)
Summary
'Everybody likes everything these days. The whole world is a nerd.'
'Are you mad because other people like Star Wars? Are you mad because people like me like Star Wars?'
'Maybe.'

If you broke Elena's heart, Star Wars would spill out. So when she decides to queue outside her local cinema to see the new movie, she's expecting a celebration with crowds of people who love Han, Luke and Leia just as much as she does. What she's not expecting is to be last in a line of only three people; to have to pee into a collectible Star Wars soda cup behind a dumpster or to meet that unlikely someone who just might truly understand the way she feels. Kindred Spirits is an engaging short story by Rainbow Rowell, author of the bestselling Eleanor & Park, Fangirl and Carry On, and is part of a handful of selected short reads specially produced for World Book Day.
What I Thought
This was so cute!  Kindred Spirits is a short story/novella (I never know when one turns into the other? If you know what constitutes as a novella rather than a short story, please let me know!) was released for World Book Day in the UK, and I won a copy through an Instagram contest.  Being that this book is so short, I really wasn't expecting much.  I figured that I would enjoy it, but being that I actually haven't seen any of the Star Wars movies, I did not expect to enjoy it as much as I really did.
I'm not sure how Rainbow Rowell did it, but in just a mere 62 pages, she managed to create fully fleshed out, realistic characters that some full novels fail to have.  I loved every single character, and I loved their growth.
The entirety of this book takes place outside of a movie theater over the course of, I think it was, four days.  Because of that setting, I really did not know how I was going to enjoy it, or how there was really going to be a full plot.  That was not the case, however.  This book was just so much fun to read, and I found myself literally laughing out loud at times.
Something that I really liked about this book, was that the story was very self-contained.  I find that sometimes short stories try to squeeze in too much information, and then it ends up creating a messy story by trying to fit a whole novel's worth of information in such a short amount.  Other short stories feel more like an excerpt of a novel rather than a full story in itself.  This book was not like that.  Kindred Spirits is a fully complete story in itself.
Overall, Kindred Spirits was super cute, and super enjoyable.  It is a very well-written, quick read.  I would definitely recommend this to Star Wars lovers who also love contemporary novels, but you don't need to love Star Wars to love this book!