Movie Monday #1 | Matilda
Hey everyone!  Today I am starting a new feature on my blog called Movie Monday.  Basically, I'm going to discuss and compare the movie adaptations of various books that I've read.  The goal, for now, is to do this at least twice a month, but I may do more! 🙂
Today's book to movie adaptation I'm going to talk about is the 1996 movie Matilda, based off the book of the same name by Roald Dahl.
Also, please be aware that there will be some spoilers!
---
Matilda by Roald Dahl is one of my favorite books, and it is one of my absolute favorite movies as well.  Like most of the people I know, I watched the movie before reading the book.  I honestly don't remember the first time I saw this movie, because, basically, it feels like I've always known and loved it.  Because of that, my opinion on this movie adaptation might be a bit biased. 😉  My love for the movie is actually what led to me reading the book.  The first time I read it, I was around 10 or 11, but I just recently reread and rewatched Matilda, which is why I chose this book to movie adaptation for my first Movie Monday!
Okay, so I'm still working on how I want this segment to be formatted, but for now, I'm going to organize this into three parts: Differences, Similarities, and Conclusion.
Differences
One of the biggest differences between the book and movie is the setting.  The book takes place in the UK, and is very distinctly British, whereas the movie takes place in the United States.
Another huge difference is Matilda's powers.  In the movie, her powers play an extremely important role, and are discovered fairly early on in the movie.  The book, however, doesn't even have Matilda discover her powers until halfway through.  She even ends up losing them in the end!
I also found Matilda to be distinctly more naughty in this book than in the movie.  She took the whole punishing the parents thing to the next level, which I found to be so funny.
The book also goes further into Miss Honey's life.  She has it much harder off in the book than in the movie!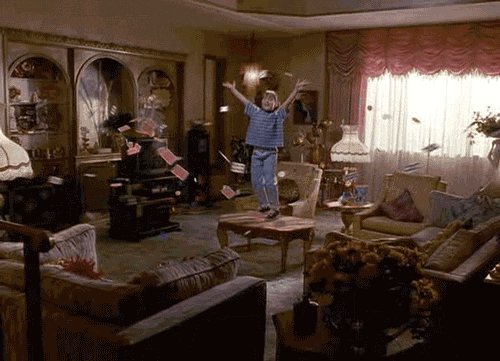 Similarities
All of the characters are incredibly accurate.  Miss Honey, while her character has a bit more depth in the book, is just as sweet and lovely, Mr. and Mrs. Wormwood are absolutely awful and yet hilarious, and the Trunchbull is the worst.
Books and Matilda's love of reading and knowledge are still very prevalent in the movie.
There may have been some differences between the two, but the movie absolutely carries the same essence as the book!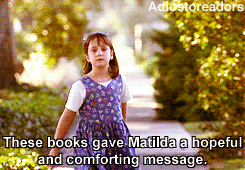 Conclusion
Overall, I think Matilda is a really good book to movie adaptation.  This movie is witty, clever, and so much fun.  There are differences, but the movie still manages to give the same message.  This adaptation gets two thumbs up from me!
---
That's it for this time! Thank you so much for reading.   I'm still figuring out how I want this blog series to go, so if you have any suggestions or ideas for Movie Monday, please let me know! I would really appreciate it. 🙂