Pokémon GO Book Tag
I was tagged by, the always so kind, Lashaan & Trang over at Bookidote for the Pokemon GO Book Tag!  Thank you so much, you guys! 🙂 This tag was created by Aentee @ Read at Midnight.
The Rules
There are no real rules; simply have fun!  A link back to Aentee's blog is always nice though.  You can also use the graphics. 🙂
Okay, let's get started!
Honestly, I don't ever remember a time where I did not love to read.  I'm pretty sure I came out of the womb loving books!  That being said, the Junie B. Jones books by Barbara Park were the first series that I absolutely fell in love with, and they are one of the first books that I remember reading all by myself.  I still have a distinct, random memory of me sitting on my older sister's bed reading Junie B. Jones Has a Peep in Her Pocket, and asking my sister what glum meant! Hahaha
This one is a no-brainer for me: Nancy Drew!  After I outgrew Junie B. Jones (which, honestly, I'll always love, too), I discovered Nancy Drew, and I fell in absolute love!  I don't know what it was about this series that enticed me so, but I just couldn't get enough.  To this day, I still love to read Nancy Drew books.  I'm obsessed/addicted to all things related to Nancy Drew, and even though I'm older now, my love is still just as strong.
I'm probably going to get a lot of disgruntled comments for this one, but, I think I'm going to have to go with Harry Potter.  Now, hear me out!  I've only read Harry Potter and the Sorcerer's Stone, and I did really enjoy it a lot; I plan on finishing the rest of the series.  The thing is, I hear about Harry Potter literally everyday.  I can't scroll through Facebook, Twitter, Instagram, etc., for more than a few minutes without finding something related to Harry Potter at least once.  Because of this, I feel like there are a lot of things I've been spoiled on.  Plus, because it has such huge hype, I feel like it's always going to be there.  Harry Potter is iconic; 5 years from now, it's still going to be everywhere.  So, it's not really that I've lost interest in this series, it's more like I've sort of just put it on hold.
I think I'm going to go with the Matched series by Ally Condie for this one.  This series reminds me of a lot of other YA dystopian books out there, but despite that, I still think this series is so entertaining!
The Sweet Far Thing by Libba Bray!!  I really enjoyed the first two books in the A Great and Terrible Beauty series, but I have not read the final book yet, because it is HUGE!  Coming in at 816 pages, aside from the Bible, it is the largest book I own.  I want to read it, but…it's size scares me!
I'm going to go with another Libba Bray book: The Diviners!  This book was super creepy!  Story time: While reading this book late one night – I was the only person up, mind you – I heard someone whistling outside.  If you've read this book, you know what whistling means.  Needless to say, I never read this book when I was the only one awake again!
This one is another no-brainer for me!  Gilbert Blythe and Anne Shirley will forever be my ultimate bookish OTP.  Just look at them! *heart eyes*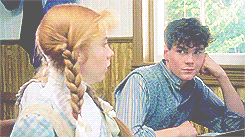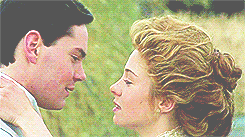 I have to choose The 5th Wave by Rick Yancey.  This is a bit of a bigger book, but despite that, I absolutely flew through this one!  It is so action-packed and fast-paced, it's one of those reads you just cannot put down.
I think I'll go with Nancy Drew again, for this one.  While I don't think all the spins-offs are necessarily equal in quality, I do love that there are so many different series, spin-offs and merchandise.  After over 85 years, the fact that Nancy Drew is still, for the most part, a household name, is so incredible!
The Program by Suzanne Young definitely surprised me.  I figured I'd enjoy it, because I enjoy a lot of YA dystopian, but I ended up loving this book a lot more than I thought I would!  It felt very fresh, and I cannot wait to read the sequel and see how this series ends!
This was a tricky one for me, but I'm going to go with the Selection series by Kiera Cass.  I've heard mixed reviews about the later books, but people seem to just love this series, and I think it sounds like a lot of fun, too!
I'd love to have the Barnes and Noble leather-bound classics…as in all of them!  Those books are seriously so gorgeous.  I have Alice's Adventures in Wonderland, and a Little House bind up, and two books are just not enough.  I mean look at it!!
I actually can't think of one for this??  I know there are books that are coming out that I want, but I just can't think of any right now?
All of these authors I wish could be auto-buy, but I love the library, and since I'm not a billionaire some of these are auto-checkout from the library: Ransom Riggs, Meg Cabot, Sarah Dessen, and Stephenie Meyer.
I have been waiting for Tales of the Peculiar by Ransom Riggs ever since it was announced, and tomorrow is finally the day (even though I probably won't actually buy it tomorrow)!!
---
This was so much fun!!  I'm not going to tag anyone, because I don't know who has already/wants to do this, but if you haven't done this yet, and it looks like fun, I tag YOU!