2017 Blogging & Reading Goals
Can you guys believe there are only a few days left in 2016?!  I sure can't…wasn't summer like, last week?  This past year has been such an experience, especially when it came to blogging.  I made this blog back in February, and I've certainly learned a lot!  So far, my blogging experience has been very positive, but now that I've been at it for a while, I think it's time to set some new goals in place!  Likewise, I had a pretty great reading year, but it's definitely time to set some new goals in place for next year's reading as well!  So, let's get started!
2017 Blogging Goals
Be consistent.  That is probably my biggest goal for 2017, and it will really tie in with every other goal of mine.  When I first created my blog, I was super consistent with posting.  Every Saturday I posted a review, I did every Top Ten Tuesday, etc.  The past couple of months though, I have gotten a little…relaxed, and while that is totally fine, and honestly, I think it was just what I needed to get motivated for next year, I think it is time for me to get consistent and organized again!
Post 2 reviews a week.  I'll admit, this is going to be an ambitious goal for me, but I'm going to try my best.  Ideally, I want to get a book review posted every Wednesday and Saturday.
More Movie Mondays.  I really love the idea of Movie Monday, and I've been pretty happy with the ones I have so far.  I just need to be more consistent with it!  Movie Monday. Twice a month/every other week.  It's happening!
Friday Discussions.  I'm still in the planning stages for this goal, but I really want some type of discussion post on my blog where I can talk about books and bookish hot topics and my thoughts and your thoughts.
More creativity.  I want to write more posts that are solely mine.  I love things like Top Ten Tuesday and Waiting on Wednesday, etc. but I really want to have more independent posts, too.   Maybe I'll have a bookshelf tour, or maybe I'll post about what got me into reading?  More posts like that!
Interact more.  This is another thing I used to do that I just haven't lately!  I really want to read and comment on other bloggers' posts.  I want to find new blogs and form more friendships.  I want to join more readathons and just participate with other bloggers more!
2017 Reading Goals
Read 55 books.  That was my goal for 2016, and right now I'm in the middle of book #51.  So, I might make it this year…or might change my Goodreads goal to 50… 😉
Read at least 1 classic per month.  I started that out strong in 2016, but I haven't picked up a classic since August!  Last year I participated in The Pretty Books' Classic Challenge, and while she is not continuing to host the challenge next year, I still plan on continuing the challenge by myself in my own way. Her challenge really pushed me to read more classics than I would have (even if I stopped in August…oops), and I really want to continue that next year!
Read the books I've been putting off.  There are several books on my TBR that I've been meaning to read, and yet I still haven't!  Mostly the problem is the size of some of these books, but others I've just put off for one reason or another.  Some of these books include:
Reread.  There are so many amazing books out there, that I usually feel like I have to keep reading books I've never read!  That being said, I want to reread some favorites.  I want to see if they're still my favorite, and also remember why I loved them so.  Rereading books can be so nice and just as an incredible experience as reading a book the first time around.
That about sums up my reading and blogging goals for next year!  I hope you had a great 2016, and even if you didn't, I hope 2017 will be the best one for you yet!
Happy New Year!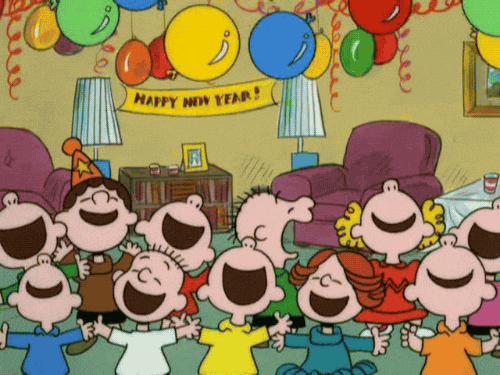 ---
Follow me on:
Bloglovin' | Instagram | Twitter | Facebook | Goodreads | Litsy (@thecalicobooks)
Buy from: